Below are some accommodation options for you and your guests. If you would like more information about where to stay or about spending the night at Rookery Meadow, get in touch.
Hotels & B&Bs
The Old Grain Store B&B, Bungay
Grove Barn Bed & Breakfast, Denton
The Duke William B&B, Metfield
Self-Catering & Holiday cottages
Wisset Lodge Holiday Apartments
Friends Farm Shepherd's Hut, Alburgh
Camping & Glamping
We welcome up to 35 campers on the night of your wedding.
As Rookery Meadow is a blank canvas wedding venue, not a campsite, facilities are hired in according to each couple's requirements. For most events there will be luxury portable toilets on site with hot running water and flushable loos. While some couples choose to hire in extra luxuries such as portable showers, tea and coffee making facilities, or a breakfast van, others opt for a bit of wild glamping.
Campers please note: Although pathways are lit at night we require all campers to bring their own suitable torch.
Guests are welcome to bring their own tents, camper vans and caravans. They can set up the day before or during a set-time on the day (your choice!). Please note there is no electric hook-up point on site.
There are also have a number of companies who can supply beautiful bell tents either basic (i.e. bring your own sleeping bag etc.) or with a 'proper' double bed and decoration. Prices range from £150 to £300 depending on the number of nights and type of bed and bedding required.
Rookery Meadow has a Bridal Bell Tent which is available to hire for £200. This comes complete with wooden double bed and all bedding.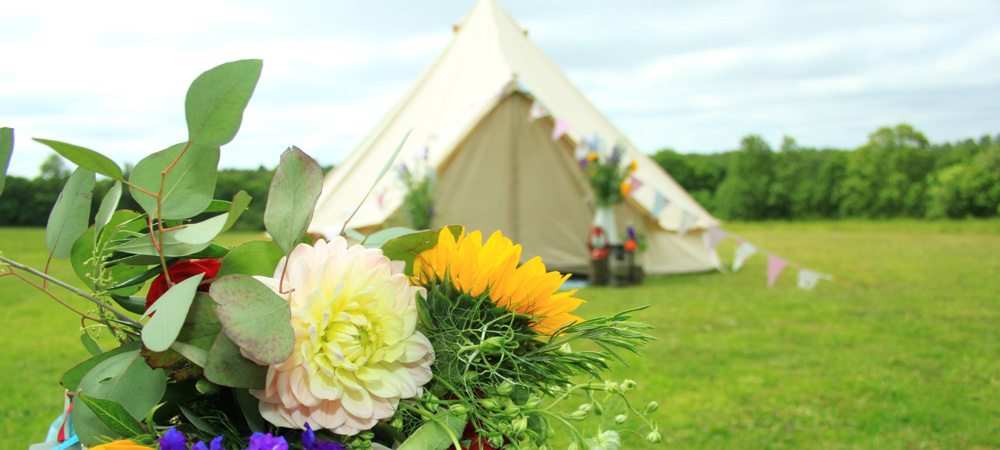 Note for guests: Rookery Meadow welcomes campers at the discretion of the Bride and Groom. Not all our couples like guests to camp so please check with the happy couple before planning your night under the stars.