How much does it cost?
Hire of the meadow is £3,500 (no VAT to add) which includes three days exclusive use, power, space to park and camp, unlimited free use of props and accessories from our Barn of Curiosities, bridal bell tent and shower room, plus our wedding planning service which includes researching and contacting suppliers, assistance to set up and break down, and a team to manage the event on the day itself. After that what you spend on creating your perfect outdoor wedding is completely up to you. Most couples spend around £16,000 – £18,000 in all.
Every wedding at Rookery Meadow is unique. The below are therefore example price guides only. We will help to get quotes for your bespoke creation. And don't forget the cost of hire includes some handy extras, including help to plan your wedding and create your vision.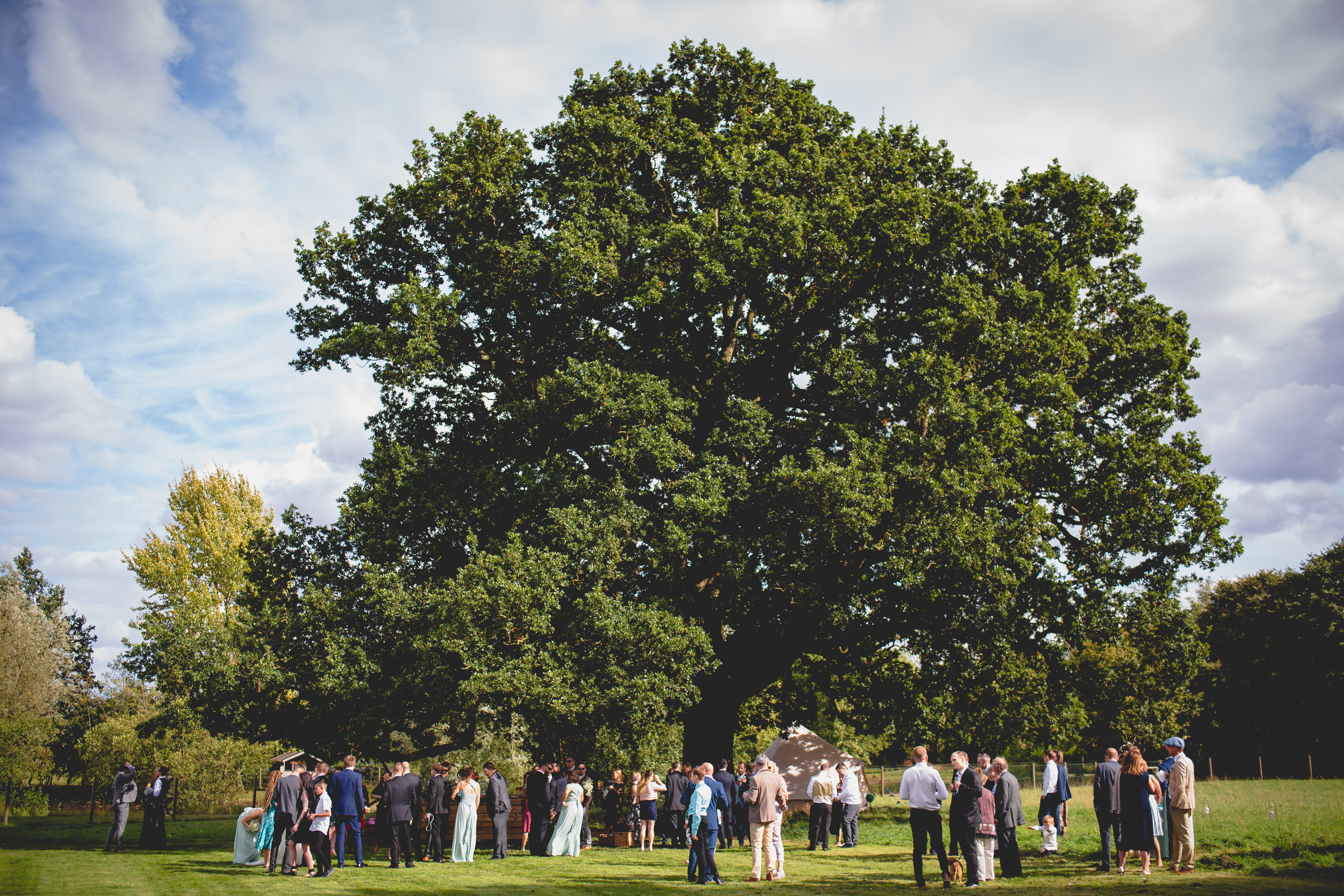 Relaxed outdoor wedding
Keep things simple and enjoy a relaxed outdoor wedding by opting for a few basic amenities to keep your guests comfortable. Delve into Rookery Meadow's Barn of Curiosities to find quirky accessories to add a bit of personality, such as decorating your marquee with our bunting and jam jars filled with flowers, or make your own seating from hay bales or pallets. Our giant kilner jars filled with Pimms create a welcome tipple that looks and tastes amazing served under the old oak tree, and a DIY bar and evening buffet help to keep costs down.
Price based on 80 guests…
Traditional Marquee for 80 with tables, chairs, catering tent, dance floor and lighting – £3,800
Music – DIY playlist with a PA – £80
Hog roast – £1,200
DIY free bar – £800
DIY evening buffet – £400
Luxury loos – £600
Equipment (e.g. fridges for your DYI bar) – £300
Ceremony – (registry office duo ceremony and family-member lead meadow ceremony) – £50
Photographer for a few hours in the day – £800
Venue hire – £3,500
Total = £11,530
Rustic marquee wedding
Say your vows under our old oak tree, then move the celebrations into a traditional pole and line marquee. With its giant wooden centre poles it is the perfect cover for a rustic theme. Fill with coloured flowers, lift the sides to let the outdoors in, and use our log slices, oak bar and the infamous tree of cake to complete the rustic decor. Then enjoy a ploughman's picnic served as a table feast.
Price based on 100 guests…
Traditional marquee for 100 with rustic banqueting tables, long benches, dance floor, stage and lighting, plus catering tent – £4,500
Ploughman's Picnic served as a table feast followed by cake and tea – £3,500
Paid bar for evening drinks – £500
DIY Fizz & table wine – £500
Live band – £1,000
Ceremony – £400 (celebrant in the meadow)
Toilets – £600
Flowers – £FREE – Homegrown
Venue hire – £3,500
Total = £14,500
Festival wedding
Longing for a festival wedding? Then Rookery Meadow is the perfect venue! With camping included in wedding venue hire, you can extend the festival experience right into the night too! Glitter stations, live music and wrist bands are fitting finishing touches. With four acres to fill you can even hire catering vans to really achieve that festival vibe.
Costs based on 150 guests…
Large marquee with tables, benches, lighting, dance floor, stage and catering tent – £5,500
Retro catering vans to feed guests day and night (think wood-fired pizza, gourmet burgers and vegan wrap bar) – £5,000
Hired bar – £500
Toilets – £600
Live band – £1,500
Ceremony – £500 (celebrant in the meadow/ registry office/ church wedding)
Venue hire – £3,500
Total = £16,500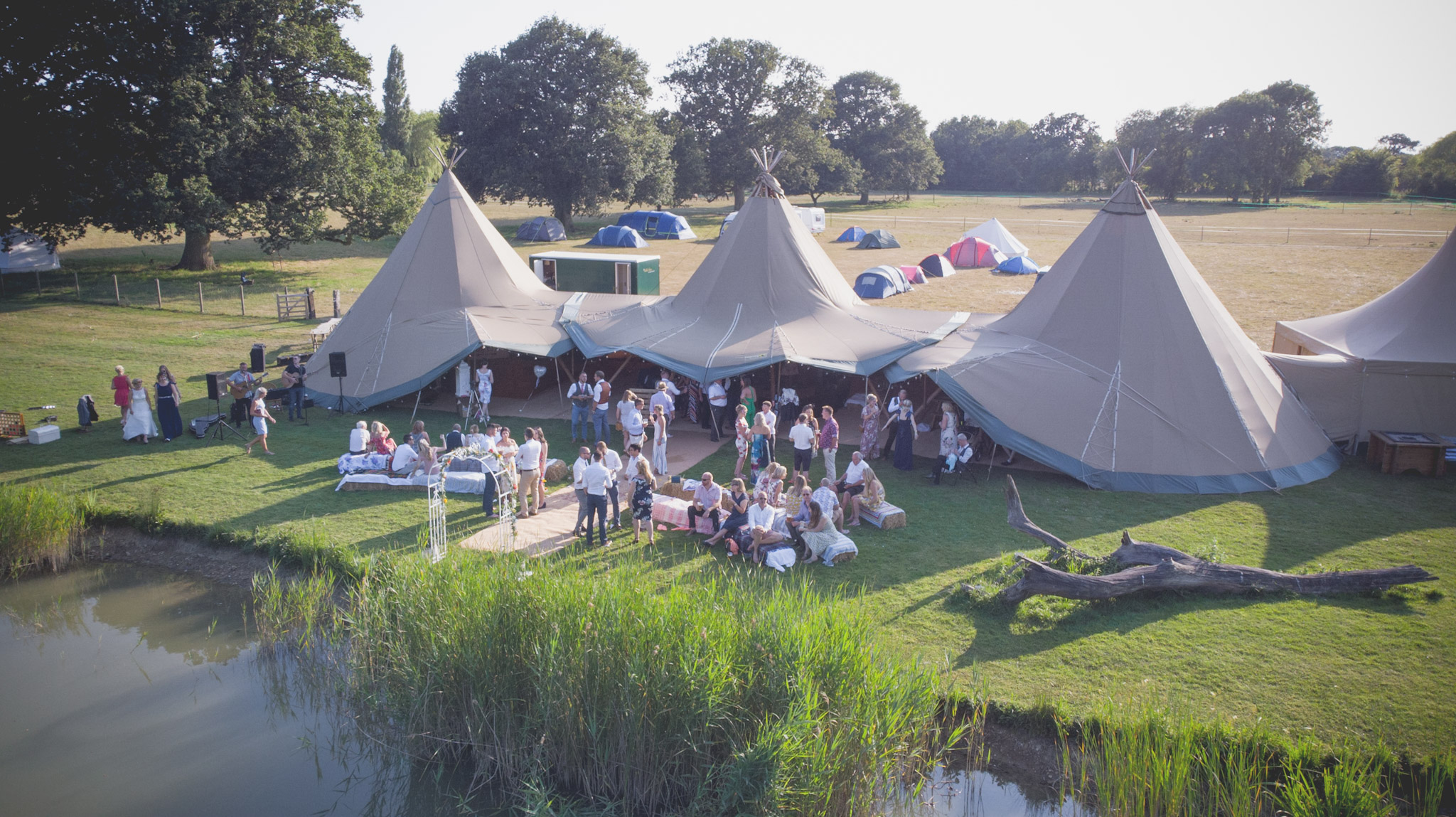 Tipi wedding
Rookery Meadow makes the perfect tipi wedding venue. With their rustic wooden benches and gorgeous canvas walls, tipis blend beautifully into the outdoor wedding environment and are simply stunning overlooking the lake. A wedding tipi can provide a magical experience for you and your guests . A relaxed wedding breakfast fits perfectly with a tipi wedding, from afternoon tea to a BBQ or delicious sharing platters. Bliss.
Costs based on 130 guests…
Three big hat tipis tables, chairs and lighting, stage, dance floor and catering tent – £7,000
Sharing feast – £5,000 (think locally sourced meats, seasonal veg, intriguing sides and salads all served to table to share)
Free bar – £1,000
Toilets – £600
Live band – £1,000
Ceremony – £400 (celebrant in the meadow)
Photographer – two photographers all day – £1,500
Venue hire – £3,500
Total = £20,000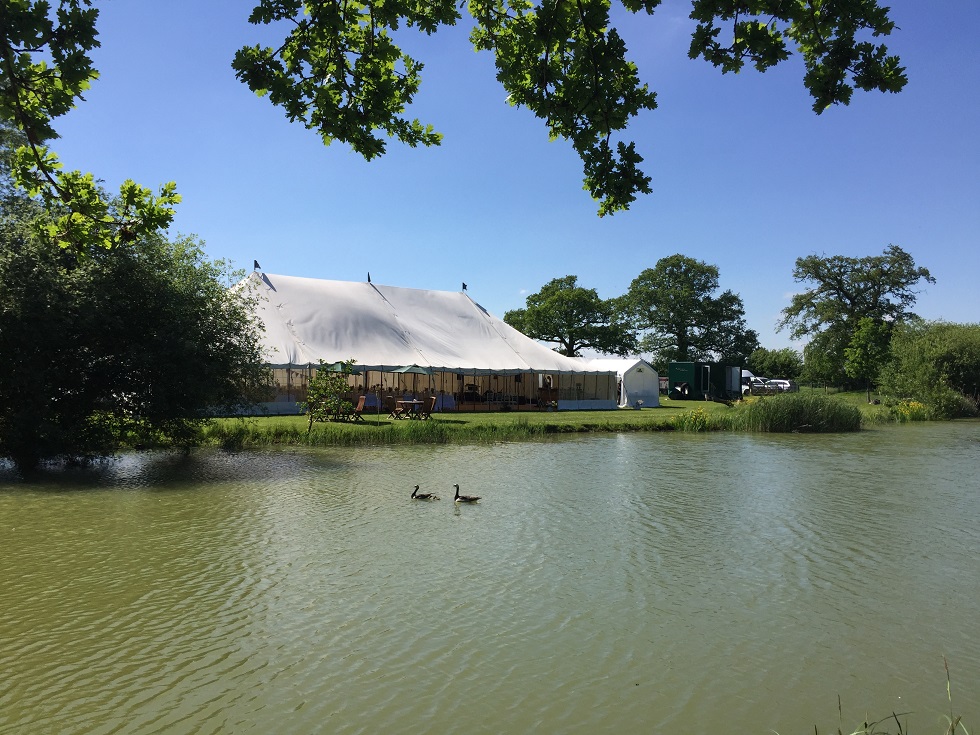 Classic marquee reception
If you are planning a church wedding then Rookery Meadow makes a unique reception venue. Why not opt for a white marquee, table linen and a classic car to arrive in style. We can even work with your caterers to create a kitchen in the meadow so you can still enjoy life's luxuries such as a three-course meal served to table. Or seek inspiration from any of the styles suggested above.
Must haves…
It always comes down to tea and toilets when organising a wedding. Our wedding planning service will ensure you don't forget to add the creature comforts, and obtain all the official certification you need so you can focus on the fun bits. We will produce a day plan for your wedding, that can be used by you, your bridal party and suppliers. We will also help to gather important information like insurance and hygiene certificates to ensure your suppliers provide you with the best possible service.
Remember…
The above are just examples – apart from the hire price, everything else is up to you!
And don't forget the cost of hire includes some handy extras, including help to plan your wedding and create your vision.
Now that you feel all inspired, get in touch and come and meet us to discuss your ideas!
*Please note costs are approximate – for a proper quote, get in touch!*

"I always wanted a bouncy castle.."